The Theme Song
"Catch the Moment"

MUSIC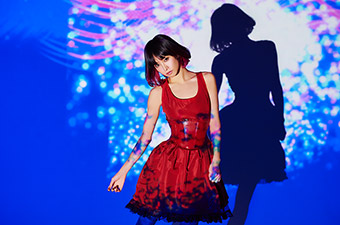 I sang some songs for the SAO TV series, as well as the theme song for the movie. Please enjoy the movie and its wonderful characters that live life to the fullest with their friends!

LiSA made her solo debut in 2011. She has recorded many anime songs, and all of her singles have topped the Japanese charts. As for the "Sword Art Online" franchise, she sang "crossing field," the opening theme for the Aincrad arc, "No More Time Machine," the ending for the Calibur arc, as well as "Shirushi," the ending for the Mother's Rosario arc.
LiSA has been extremely popular, not only among anime fans but also rock music fans. She has performed for sold-out audiences throughout the world, and her international success definitely makes her one of Japan's rising female stars.




Kajiura is a multi-talented Japanese musician who is best known for her work as a composer and producer. She made her debut as a composer and keyboard player of the group "See-Saw" in 1993. After her ending theme song for "Gundam Seed" became a hit, she started working on more anime music projects.
In 2004, she started her own project called "FictionJunction," and at the same time, she began her "Yuki Kajiura LIVE" concert series, which has been held 13 times to date. As a producer, she has worked extensively with the vocal unit "Kalafina."
In addition to anime projects, she has also worked on live-action movies, TV programs and drama series. Due to her unique sound that fuses European and Eastern essences, Kajiura has been supported not only by Japanese fans, but also by audiences worldwide.