A new adventure is about to begin in an undiscovered land.
During the Sword Art Online: The Movie Special Stage, held on March 13, 2016, as part of the 2016 Dengeki Bunko Spring Festival, the latest news on Sword Art Online the Movie: Ordinal Scale was revealed.
To start things off, emcee Kazuma Miki (Dengeki Bunko Editing Dept.) and Rina Hidaka (Silica) took the stage. They were later joined onstage by Yoshitsugu Matsuoka (Kirito), original creator Reki Kawahara, and staff member Shingo Adachi (Character Design), who spoke at length about the upcoming film.
This was the first event since the 2015 Dengeki Bunko Autumn Festival featuring cast members, animation staff members, and the original creator, all onstage at the same time. They were greeted by the audience with raucous cheers and applause.
When Mr. Miki announced, "Sword Art Online the Movie: Ordinal Scale will open in 2017," the audience erupted in even more cheers. That was when Ms. Hidaka asked, "This Ordinal Scale in the subtitle…could that be a new game?" Mr. Miki replied, "Perceptive of you. I'm impressed that you caught that. Well, that's exactly why I asked you to be the emcee today."
With abec's key visual projected onscreen behind him, Mr. Miki then began to explain the concept of the new game, Ordinal Scale, and the new device it's controlled by – the Augma.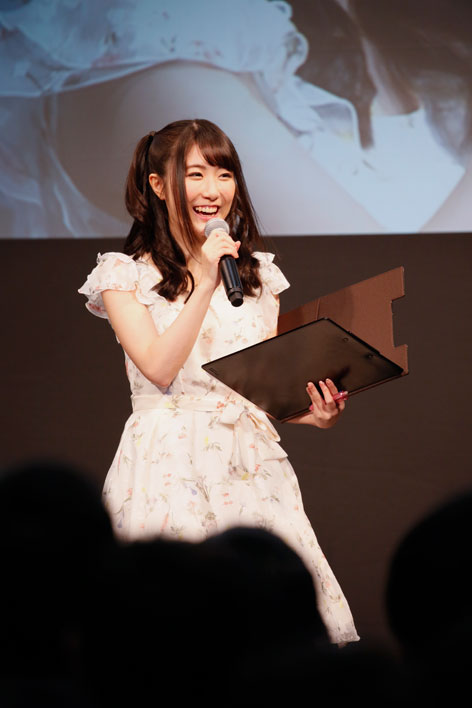 The AR (Augmented Reality) Type Information Terminal (Augma) is a wearable multi-device that looks like a pair of small headphones. It is far more compact than the VR machine known as the Amusphere. Instead of a full-dive function, the Augma boasts the ability to enhance AR (Augmented Reality) to the maximum. Because it can transmit visual, auditory, and tactile information to the wearer while awake, more and more users have embraced it as a way to enjoy exercise and health management as a game.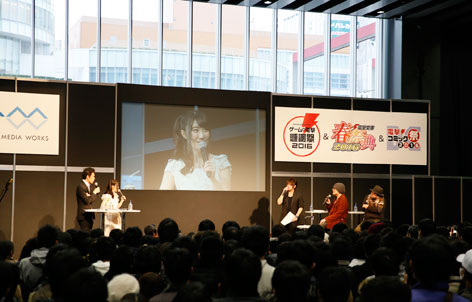 The first key visual drawn by abec shows Kirito and Asuna already wearing the Augma. According to abec, the Augma is the small device near their ears. Needless to say, it was original creator Reki Kawahara, the man behind the original concept and screenplay, who came up with the idea for the Augma. According to Mr. Kawahara, "Throughout Sword Art Online, we've seen the devices evolve, from the NerveGear to the Amusphere. And now it feels like it's inching closer to the Neuro-linker, a choker-like apparatus worn around the neck that appears in another story of mine, Accel World." Sword Art Online is said to be set 20 years before the events of Accel World, so you could say it's a machine that enables users to experience the evolution of the world.
And the ARMMORPG driven exclusively by this Augma is Ordinal Scale (OS.)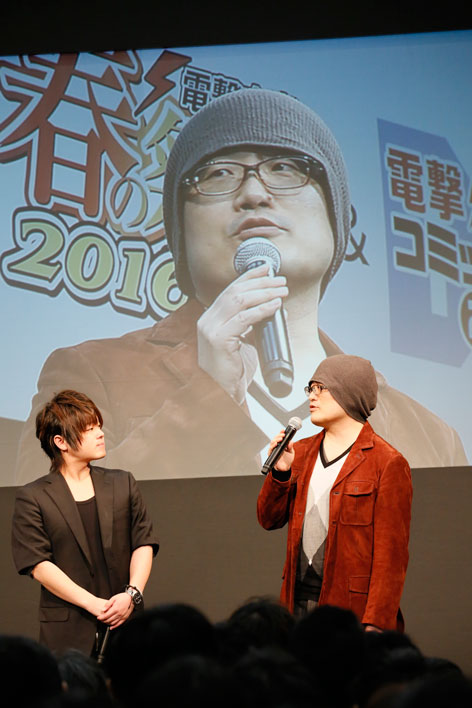 Gathering hype as a next-generation game equipped with cutting-edge technology, Ordinal Scale took the world by storm upon its release. Players can raise their rank by collecting items and crushing monsters appearing all over the playing field – the real world. This Ranking System is what sets Ordinal Scale apart; each player's status is determined by their rank number, an ordinal number, rather than a cardinal number.
For this reason, higher-ranked players are granted overwhelming power, and so rank plays a significant part in how solo PvP (Player Versus Player) battles end.
After Ms. Hidaka finished reading aloud this description of Ordinal Scale, Mr. Matsuoka showed how pumped up he was by responding, "Hearing you read that makes it seem like the ranking battles are about to begin right now."
"About cardinal numbers and ordinal numbers, let me just add that cardinal numbers show quantity, such as a player's Hit Points (stamina) or Strength (muscular strength.) Since the SAO characters' statuses were filed as cardinal numbers, they could be used under the Cardinal System. Ordinal numbers show the order of things in a set. So I thought a system for keeping track of players in order should be called Ordinal…I guess?" added Mr. Kawahara. It looks like we're going to get to experience an in-game world driven by a totally different system.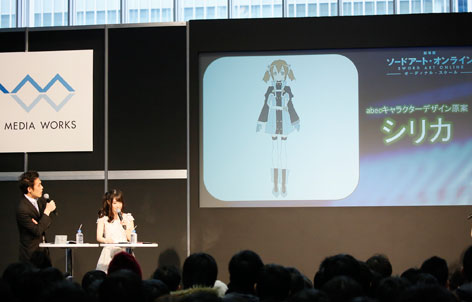 When she saw the original character design drafts for Kirito and Asuna, Ms. Hidaka was thrilled with Asuna's red tights. "Red tights! I like them because they're not something she can put on everyday. I've always been a fan of abec's artwork, so I was glad to get the chance to view these drafts. By the way, one thing that's been bugging me…I don't see Silica!" she said, pointing out the fact that her own character was missing. Just then, abec's character design draft for Silica was presented onstage. Seeing how much of her thighs Silica's costume leaves exposed, Ms. Hidaka, totally stoked, shouted, "That's it!"
At the end of the event, when Mr. Miki asked Ms. Hidaka and Mr. Matsuoka what they were looking forward to from the movie…
Ms. Hidaka's request: "Please give [Silica] more screen time."
In reply, Mr. Adachi said, "When Silica shows up, I'll have Pina fly in front of her face." Ms. Hidaka, slightly panicked, responded, "Hey, wait a minute!" We were left to wonder just how Silica would be portrayed in the movie.
As for Mr. Matsuoka's request, his answer was, "I wish I could meet up with Akihiko Kayaba again."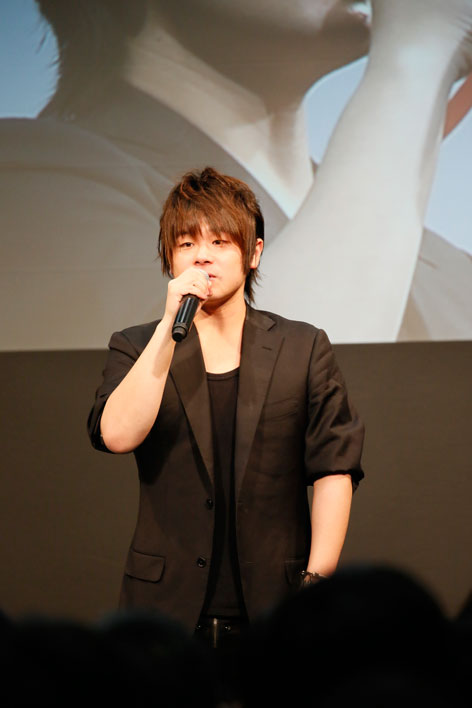 Mr. Kawahara said, "I'd like to see another recording session with Mr. [Koichi] Yamadera as Akihiko Kayaba, too." As for how to make Kayaba's reappearance a reality… Mr. Matsuoka suggested, "How about if Cardinal and Ordinal were sisters?" To which Mr. Kawahara replied, "Anthropomorphizing Cardinal and Ordinal?! That's something I'd like to write about someday!"
Sword Art Online the Movie: Ordinal Scale is currently in production, with an eye towards release in 2017. Adachi said that after this event, he would be returning to the studio (A-1 Pictures) to work on compositing the first animated key visual. This key visual will be unveiled during Sakura-Con 2016 in Seattle, Washington (Friday, March 25 – Sunday, 27 PST).
We're finally starting to get a glimpse of what the movie will be about. The onstage event concluded in a round of applause from the audience.